Site blog
Anyone in the world
When we implemented a video conferencing server BigBlueButton in April 2019 to support distance education, we knew only in rough outlines how important this tool would become for us in the upcoming months and years.
Since March 2020, all face-to-face education has been suspended. Thanks to more than a year of experience with the implementation of online lessons (albeit on a small scale), we at Language Hub were able to respond very quickly and move smoothly into the online space.
BigBlueButton is a video conferencing application accessible via a compatible browser, and no additional software needs to be installed on your computer, tablet or phone to run it. Its working is provided on our server and its management is completely under our own control.
The video conferencing interface has a high-quality audio codec, video transmission, user-friendly interface, whiteboard, collaborative text editor, voting module, screen sharing and audio / video materials directly in the lesson and other tools that very accurately simulate a real class and help the lessons run naturally.
We delivered 2,500 of them with the help of BigBlueButton from March 2020 to June 2021. This number gives us some feedback that the decision to invest in launching our own learning infrastructure made sense.
[ Modified: Wednesday, 21 July 2021, 3:51 PM ]
Anyone in the world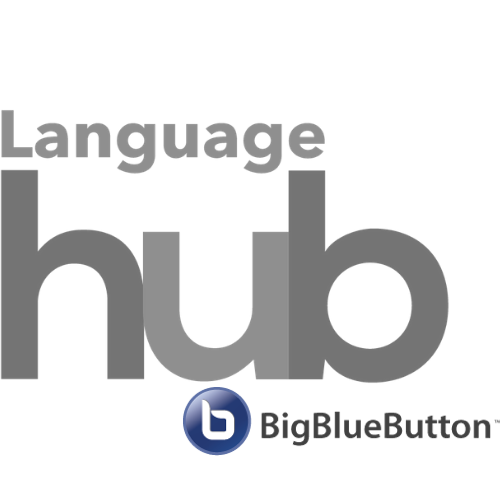 We are happy to announce that the BigBueBlutton app, which is used to connect students and teachers in our virtual classrooms, has successfully passed the stress test.
From April to September 2019 there were over 100 online lessons with a total length of 140 hours with no crashes or malfunction recorded.
Thanks to a direct connection to the Moodle system, that our school runs on, we can ensure a trouble-free and secure connection. What is more, an overview of all planned and taken lessons is available including downloadable presentations.
BigBlueButton is used for off-site education as well as a substitute to conventional courses in case of time or place clash.
Watch this video to learn more about BBB.
[ Modified: Wednesday, 1 January 2020, 5:33 PM ]
Anyone in the world
Úspěšná implementace videokonferenčního serveru BigBlueButton
V květnu 2019 byl spuštěn ostrý provoz serveru BigBlueButton (BBB) pro organizování virtuálních tříd.
Tendence přesunout část fyzické výuky do online prostoru je patrná již řadu let. Programy typu Skype nejsou pro vzdělávací aktivity nejvhodnější, protože jim chybí prvek participace studentů ve třídě.
Vedle audio a video spojení ve vysoké kvalitě, BBB obsahuje funkci virtuální tabule s možnostmi pokročilého prezentování (tvary, podtrhávání, spojování, zvýrazňování), chatovací a close caption rozhraní a v neposlední řadě možnost nahrávání a zpětného zpřístupnění jednotlivých lekcí nebo jejich částí účastníkům. Vložená prezentace je v průběhu lekce a po jejím skončení dostupná všem studentům.
Rozhraní je plně integrované do školního systému Moodle. Student tak nepotřebuje další přihlašovací údaje, virtuální místnosti však přesto zůstávají silně zabezpečené na úrovni kurzů podle politik Moodle.
Pro organizování tutoriálů je možné zpřístupnit hostovský účet s jednorázovým dočasným heslem řádově desítkám účastníků.
Budete-li si přát vyzkoušet, jak vypadá lekce přes BigBlueButton, dejte nám vědět, spojíme se s Vámi.
Pro podrobnější prezentaci systému navštivte prosím tento odkaz (PDF, 7MB).
[ Modified: Wednesday, 1 January 2020, 5:33 PM ]